Recently, I am always thinking which thing is new and related to logistics. I have seen some posts from my classmates. I think they are very interesting. Although I am not go to the class, but I have seen some points in the posts about this class.
As we all know, home delivery requires many workers and devices, such as cars and barcode scanners. The workers need to contact the customers one by one when they have gotten the dispatched good. This work could be very boring and complicated. To get more convenience, many companies have built the box to put the dispatched goods, so the goods can be stored here for one day, allowing people to flexibly collect. Even this cabinet comers in different sizes for easy storage of different courier volumes.
This cabinet is set by the union express companies to simplify the waiting time for courier delivery. Every time there is less time to be wasted. Meanwhile there are some new technology in the express area, like the unmanned delivery car. Like Walmart has a corporation with Udelv. They launched the unmanned car to deliver the products of Walmart, just like the picture showing, which car can maximize upload the goods for 40 personas and delivery about 10 times. At first, although the car doesn't need the people to follow, the courier also accompanies the car to deal with the urgent situation. After that, other company also launched the unmanned car to delivery the goods, such like Jingdong in China. But we need to admit that currently the technology still is not very mature. Of course, we have to deny that this is the future development trend.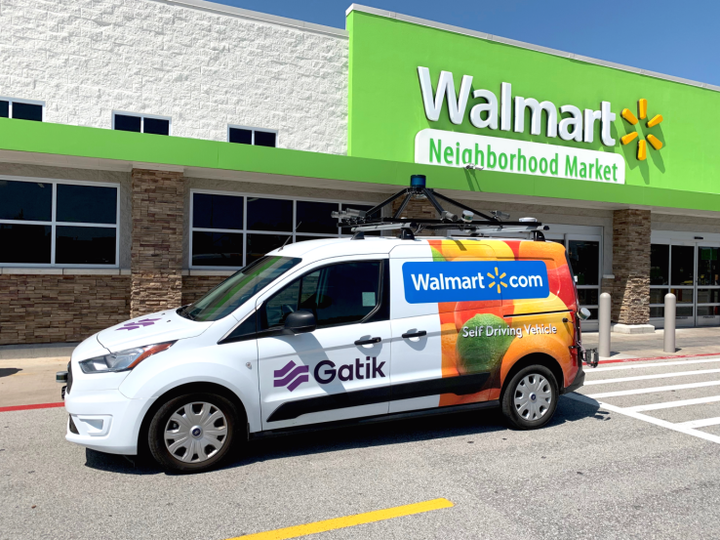 Like the last class introduced that the logistics might be defined as "the management of times". Therefore, many people are more like to pay attention to the delivery time. Like China, people who are living in the south of China, can get the delivery faster than other location. When amazon started business in China, at the beginning, they did not care about the logistics, no matter the speed of the delivery. Now they find that to make better business, they also need to pay more attention to improving the delivery's speed. Maybe like the unmanned car, using the technology can improve the service of the customer more efficiently.