My post of this week is about Privalia – the biggest private club that sales online offering top brand fashion,home, sports & electronics . The company currently has 28 million customers worldwide and is a leader in each of which operates as Privalia (Spain, Italy, Brazil and Mexico), making it an international benchmark for the sector markets.
The leading online fashion outlet , born in Barcelona in 2006 from the hand of Lucas Carne and Jose Manuel Villanueva, offering daily sales of leading brands at exceptional prices and exclusively for it´s customers .
The data provided by ComScore, the main platform for measuring web traffic, the fashion outlet online market place Privalia as a leader in traffic in Spain in 2012, 2013 and 2014. The company was recognized as the Best Website Shopping in Spain by users in the contest Website of the Year in editions 2012 and 2013, Best Webshop Mobile in the Ecommerce Awards 2014 Website most popular shopping on the Website of the Year Edition 2015.
Privalia stands out for its efficient strategy innovation, with pioneering initiatives in social networks and their commitment to sales through the mobile channel. One of the most striking examples is the Fan Shop, a concept created exclusively for the site Privalia in Facebook, which, unlike other existing applications in the social network.
This company it´s utilizing the INVERS LOGISTIC, called also MOLDSTOCK or MOLDEVOLUTION.
This methid solves any problem or situation related to the goods rejected at the point of sale or its final destination. This new division deals with the collection, recycling, treatment and development of the goods, making it available to the manufacturer for further marketing . Moldstock bet for reverse logistics as a service to outsource highlights the importance of taking this type of process in all companies, but especially those dedicated to e- commerce
In today's marketplace, many retailers treat merchandise returns as individual, disjointed transactions. "The challenge for retailers and vendors is to process returns at a proficiency level that allows quick, efficient and cost-effective collection and return of merchandise. Customer requirements facilitate demand for a high standard of service that includes accuracy and timeliness. It's the logistic company's responsibility to shorten the link from return origination to the time of resell."
By following returns management best practices, retailers can achieve a returns process that addresses both the operational and customer retention issues associated with merchandise returns. Further, because of the connection between reverse logistics and customer retention, it has become a key component within Service Lifecycle Management (SLM), a bussines strategy  aimed at retaining customers by bundling even more coordination of a company's services data together to achieve greater efficiency in its operations.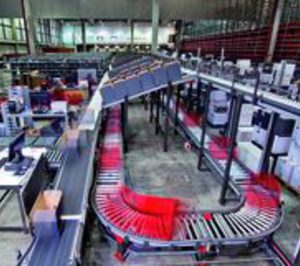 Here I found some interesting articles about the logistic of Privalia, they are in Spanish 🙂
http://www.modaes.es/empresa/20130122/privalia-externaliza-su-logistica-y-contrata-a-id-logistics-para-gestionar-su-centro-de-barcelona.html
http://www.cadenadesuministro.es/noticias/el-operador-id-logistics-gestionara-para-privalia-el-centro-logistico-de-barcelona/
https://www.alimarket.es/noticia/115028/id-logistics-gestionara-la-logistica-de-privalia
Also a nice video about  Privalia´s logistic: